How to hack my partner's mobile without touching it?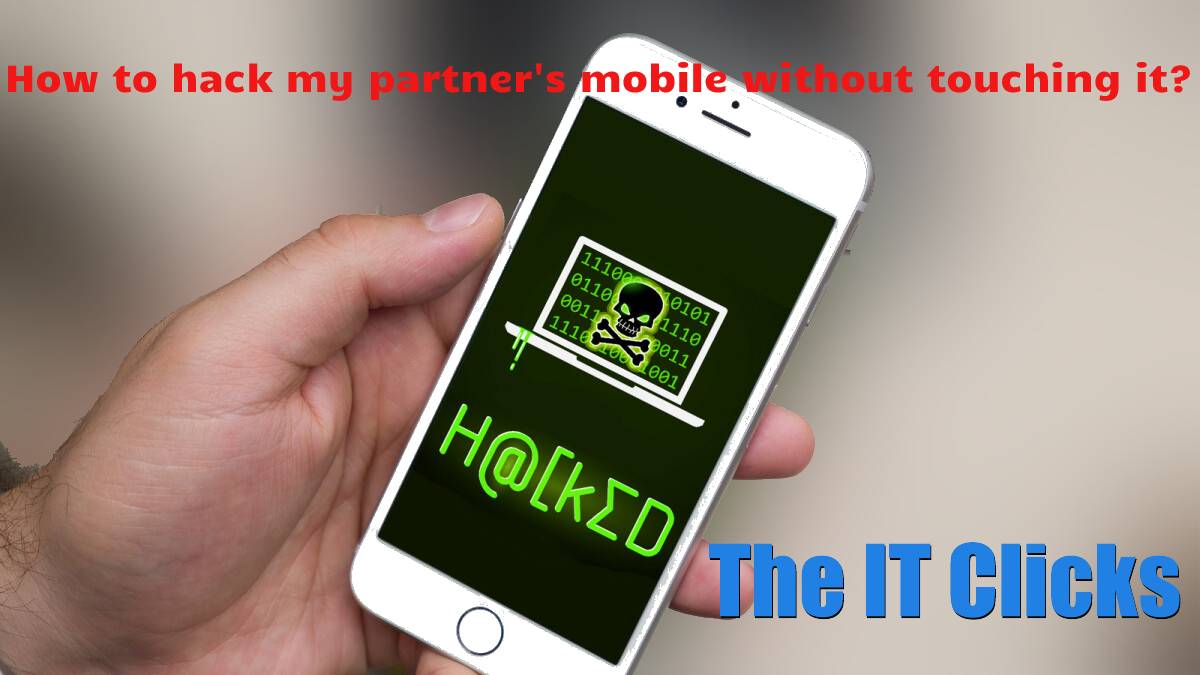 Introduction
To put the phone down, you need information about the hacking process. An essential job is to work in real life. The complex variety of features and expressions is involved in the process, and can't be controlled by the average person.
you can often wonder whether he is a loyal partner or not. Really, there are tons of ways to get your partner on the phone even once. . Try activities with your partner on the phone in a variety of ways.
Experts are also used to cut phone calls, but in the 21st century, exploring mobile phone apps like that has become a lot easier. When you visit a partner on the phone, you can not only view activities or conversations, but you can also find the location of your phone.
Can You Remotely Hack Someone's Phone?
hacking in most scenarios is not always bad because it looks at security measures for the benefit of everyone, society and the state. Transforming piracy perspective: People can see other activities by touching their mobile phone when they feel the vulnerable movement on the other side. Further, society is necessary.
What takes someone to access your phone? Do you use a spy app or hacking technique? There are powerful, happy watchers apps that can help you monitor someone's phone without touching the sky. To admission any device, all you need to do is appreciate what hacking is around.
How To Hack Someone's Phone Without Them Knowing
To put the phone down, you need information about the hacking process. An essential job is to work in real life. The complex variety of features and expressions is involved in the process, and can't be controlled by the average person. It is recommended to use an authentic curriculum in the arts to overcome or achieve a decent piracy force.
Hacker is someone who can kill another phone or device. They provide one person free access to another phone and verify all information and information about them. To control your cell phone no matter cell phone, users must follow the protocols.
How To Hack Mobile Easily And Remotely
There are a few steps to understand that hackers can use to kill someone's phone. Using advanced or simple techniques to explore in apps or hacking methods can go a long way on big cell phones. What is recommended to be added to the device? You can execute judgment with your own counsel and judgment.
Five Simple Ways To Hack Someone's Phones Remotely
We took the time to show you the methods hackers have gone so far using to kill a cell phone. An experienced hacker can lock your phone without risking your iPhone without touching it. Don't even know access to messages, chat, galleries, and much more.
Phishing Technique
Phishing is the best technique because it's simple and everything you can do: send a link to your partner's phone. Once the link is opened, install the software automatically on your phone. With these devices, you can easily cut someone or your spouse on the phone.
You can monitor your phone partner's account online via your phone. iOS phones can also become spyware if you know your Apple ID and phone password. When you send a hacking app on your phone and connect it with an official, you need to log in and log in to your account. After this procedure, you will be able to monitor your body.
Hack To Know Number
Your phone can also be hacked only by knowing the number of your members. To do this, watch the latest phone calls app for mobile phone hacks with your number one. The first step is to install the target phone request. After this account, you must purchase your subscription for your device, and only then will you receive your license key. You can now communicate with your phone monitor by knowing their phone number. The app gives you access to history, contacts, calls logs, and more. It doesn't matter if your partner is an Android phone.
Hack Sending Text Messages
Another method known for phone hacking sends a text message. Each one has his own account here. When you use Google accounts, users might use them to sign in to various applications. To do this, log in to Google and click on my forgotten password. To simply check your iPhone number, send a text message to your phone number, which acts as a security guard in a wealthy society. In a similar text. "Abnormal activity has been detected on your account. Click here for more information."
When you send text messages, you will receive a code to log in. How to not touch a phone monitor. This one of the most outstanding strophes is recording on other telephone calls.
To do this, you can log in to your partner's various phone applications, such as social media, email, and Google Map. You can use your target phone to intercept web messages.
Midnight Raid Phone Hacking Services
Another popular method used today is the Midnight Raid method, which is known by its name, as it is used at night when the phone is slow and does not use the phone.
Hackers have special notes and other tools to easily check their phone numbers. You will need a laptop, two mobile phones, and an iPhone remotely to cut this process.
The first phone acts as a modem on a laptop, the second acts as a device as a receiver. All you need to do is use this technology to send an "auto message". This browser will be available on your phone. By doing this, you use your phone calls and the information you want to withdraw. Then you will receive your IMSI number, which is your single mobile phone number. Now you have all the information about this type of application.
Hack Stingrays To Hack iPhone
Another technological tool, called stingrays, can be used to drive the transmission tower. Allow all phones to connect to the neighborhood. The only sign is that the SIM card knows the location and location of the phone.
Most of this technology is used by government or government agencies. It is also a fun and ugly problem to stop. IMSI receivers can be connected to your phone with GSM, 3G and 4G. This will allow you to connect to your phone with IMSI with a simple card. This type of code hacking is used frequently and is available on sites like GitHub. If you want to shake the phone without touching someone, there must be a very technical expert and breaking the law.
Hire A Phone-Hacking Service Provider
If you are competing with the above-mentioned processes, you can hire professional piracy so that it doesn't touch the sorcerers. You can hire a professional hacker to receive your payment. An experienced hacker has years of experience, which is why this is hard work for them. The only difficulty with this process is that it is difficult to find a specific piracy.
Also Read: Financial Benefits With 5G, and How to Receive It?