How To Unlock an iPhone 5, 6, 6s, and 7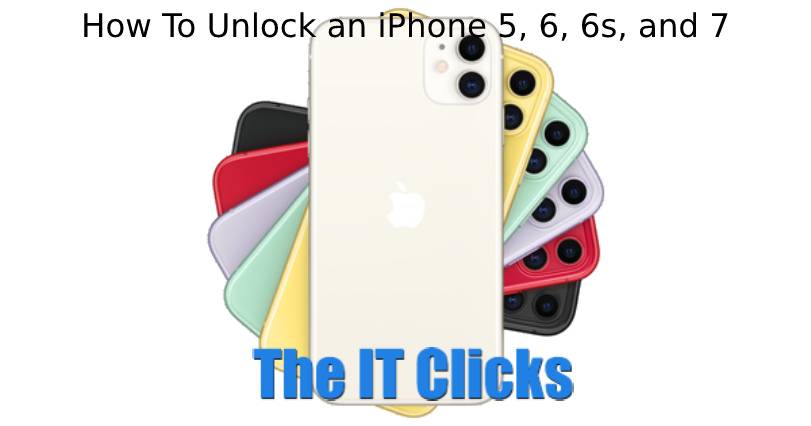 How to Make a Locked iPhone Accept Any Sim
Happy with your iPhone, but think you ae paying too much for data and text messaging? We've all there before, to be honest. Sometimes switching carriers is a good idea, but there can be a small downside: if your iPhone is locked on a particular network, you'll need to unlock it before it can accept another carrier's SIM card.
If this sounds complicated, don't worry. Below is all the information about how to unblock cellular carriers. Remember that an operator lock is different from a screen lock. The latter prevents you from accessing a phone, while carrier lock prevents you from using another carrier (if you have Verizon, you cannot use AT&T until the device is unlocked).
Here's how to tell if your(phone) iPhone locked
There are several ways to know if your iPhone is unlocked. Let's go through the methods.
Use a SIM card
Not sure if your phone locked? Well, that's pretty easy. Just take out your current SIM and try a new one from another provider. If you bought your iPhone directly from an Apple Store, it is unlocked by default, so switching between SIM cards from different networks quick and easy, and you don't even have to restart your phone.
But, if your iPhone is locked, you will get error messages like "Invalid SIM" or "No SIM card installed." This may not mean your phone is locked; it could be an iOS attack. With this mount, it's just a simple case of turning airplane mode on and off and rebooting the phone or reinserting the SIM card.
Alternatively, go to Settings | General | Info, and tap "Check for carrier settings update."
Note: If possible (in the GSM network), it is better to use a SIM card from T-Mobile or AT&T. Some CDMA phones require particular SIM cards, which vary depending on the phone model. This means that your mobile may be unlocked, but it won't recognize the SIM card you have inserted.
Check with the carrier
Most cellular service providers have the option of verifying that your phone can be activated on their network. AT&T, for example, has this website. You can enter your phone's IMEI number and get notified when it's ready to be activated or even blocked with a previous carrier.
If you receive a message with the SIM card locked, you out of luck and need to unlock your phone.
Find out if a phone unlocked earlier than you buy it
A common problem with unlocked phones is selling them to someone else. Whenever you buy a locked phone from the original purchaser, you must unlock it. You can, of course, check with your carrier to see if the IMEI is supported, but this won't continuously tell you if the phone unlocked.
The best thing to do is meet with the seller at your operator's store and activate the service before paying for it (most honest sellers will). However, if you buy the phone from eBay or ship it to you, it is not an option.
Your next choice is to use a third-party site to run the IMEI for you. But, as always, there risks here too. Most of these websites charge a fee, and some not even accurate. If you visit the original operator's website, you may be in luck, but you will need the actual account number and other vital information that the seller may not want to give you.
What do I need to unlock my (phone) iPhone?
you have received your phone under a contract, your phone will only blocked from the network until the conditions of the agreement, rental, or installment payment met.
If you bought your phone used, it is a bit more complicated;  you can't get the seller to unlock it, you may have to go through some hurdles. the phone were originally purchased under a contract or lease, you would likely need the original account holder's information to unlock the phone. Otherwise, the phone will stay with that provider forever.
Rumors and news about the iPhone 7 release date could have long-range wireless charging technology
How to unlock your iPhone
If your phone purchased with a postpaid account with one of the top four US wireless operators, you will need to contact that wireless operator to unlock the phone. Each operator has its process and criteria for unlocking the phone.
AT&T
AT&T devices must work lively on the network for at least 60 days before the company can unlock them for you. AT & T's unlocking policy, assuming you meet the requirements, is one of the easiest and most direct options.
To unlock your phone, AT&T makes it easy. Visit their website to unlock the device and enter your account/device information. You will receive an email from T&C as soon as you succumb the request.
Check your mail and follow the steps to confirm that you want to unlock your device. You will then accept an email notifying you that your device will unlocked within 24 to 72 hours.
T-Mobile
Your iPhone must be free of contractual obligations or obligations and be active in the T-Mobile net for at least 40 days to be eligible.
Go to your T-Mobile Online account and go to "View Account" then "Lines & Devices" to access the phone you want to unlock. Submit the request to unlock this device and wait for the confirmation email.
As soon as the request has approved (approx. 48 hours), your phone automatically activated for use in the network of another provider.
Sprint
Sprint will automatically unlock a device as soon as the conditions met, as long the SIM can unlocked. The corporation will provide an MSL code for these devices, but iPhones don't use MSL (Master Subsidy Lock) codes, so it doesn't make any sense.
Note: This data is subject to change as T-Mobile and Sprint have just completed their merger. Although the official word as of May 2021 is that the Unlock Policy will remain the same, you can check out the latest information on Sprint's Device Unlock Policy here.
Final steps
Now that the operator (hopefully) has unlocked your phone; Insert the new provider's SIM card into your phone. If you don't have a new SIM card yet (as if you are waiting to travel), make a backup, reboot, and restore your iPhone with all your data.
A reboot ensures that it unlocked and ready for international travel. Before you go, try using another friend or relative's SIM card (preferably AT&T or T-Mobile) in your phone to make sure it works on the GSM network.
Also Read: How to hack my partner's mobile without touching it?